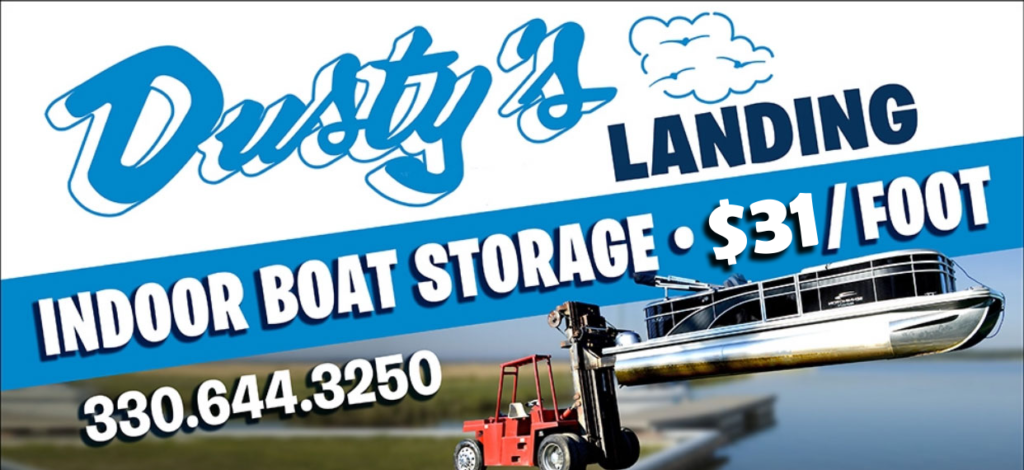 Dusty's Landing is proud to offer Winter Storage Service. Dusty's Landing has a team of full-time service technicians to meet your service, winterization, and shrink-wrap needs.
Dusty's Landing offers personalized attention backed by a customer satisfaction guarantee.
Outside Storage
includes haul-out $450 a season

Inside Storage
$31 a ft prices are quoted upon request
**Ask about heated indoor storage!
What do you get with Dusty's Landing Winter Storage?
Our Commitment to Quality
Qualified Personnel
Full Service
Competitive Prices
Winter Storage Contract (must be signed and returned to Dusty's Landing)
*50% deposit needed to secure winter storage space!
Our Commitment to Quality
Dusty's Landing is committed to providing the highest quality winter storage services to all of our customers. Being the largest marina on The Portage Lakes, out reputation is on the line each time we store or service a boat. We have been able to grow our business by building a large base of satisfied customers through providing quality service.
Qualified Personnel
Dusty's Landing has a staff of experienced and well-trained personnel that can assist you in making the right decisions for the care and maintenance of your boat. Dusty's Landing offers a knowledgeable sales staff, proficient administrative staff, experienced and factory-trained service technicians, experienced and reliable equipment operators, thorough quality assurance personnel, and a management staff focused on meeting and exceeding your expectations.
Full Service
Dusty's Landing offers complete winterization, shrink-wrap, and service for your boat. Whether it's your fishing boat, a cruiser, or a high-performance boat – Dusty's has the technicians, experience, and the tools to do the job right. In addition to our winterization programs, we offer a full range of maintenance and repair services.
Competitive Prices
Dusty's Landing offers economical pricing to meet your storage needs. Repeat customers are our best indicator of the quality services and competitive pricing that we offer.
Boat Storage Request Form